SLEEP DISTURBANCES AND DISORDERS
Common sleep disorders like insomnia, broken sleep, restless legs syndrome, narcolepsy and sleep apnea can affect every aspect of your life including your safety, relationships, school and work performance, thinking, mental health, weight and the development of diabetes and heart disease. Not getting enough quality sleep can hurt your quality of life. Circadian rhythm disorders – problems with the sleep-wake cycle. They make you unable to sleep and wake at the right times, as in old age particularly in Alzheimer's these persons remain awake during night and keep sleeping during day time.
Parasomnia – acting in unusual ways while falling asleep, sleeping, or waking from sleep, such as walking, talking, or eating. People who are deprived of sleep experience difficulty making decisions, irritability, have problems with performance, and slower reaction times, placing them at risk for automobile and work-related accidents. Sleep loss can also adversely affect life by contributing to the development of obesity, diabetes and heart disease.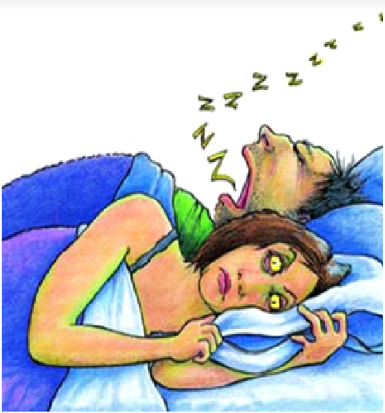 Sleep Apnea Symptoms
(SNORING)
Long pauses in breathing
Loud, chronic snoring
Choking, gasping in sleep
Morning headaches
Insomnia or night-time awakenings
Moody, irritability, depression
Waking up feeling out of breath
Excessive sweating
Forgetful, lack focus & concentration
Excessive day time sleepiness
Waking with sore throat- dry mouth Enuresis, loss of libido
Sleep is an essential function that allows your body and mind to recharge, leaving you refreshed and alert when you wake up. Healthy sleep also helps the body remain healthy and stave off diseases. Without enough sleep, the brain cannot function properly.
BRUXISM, CRAMPS, JERKING, CERTAIN TYPE OF EPILEPTIC FITS, SLEEP TERRORS, ENSURESIS ARE FEW OTHER DISEASES SEEN DURING SLEEP.
Nocturnal seizures are seizures that happen while a person is asleep. They can cause unusual night-time behaviour, such as waking for no reason or urinating while sleeping, as well as jerking and shaking of the body. Nocturnal seizures are usually a type of seizure called a tonic-clonic seizure. Getting the right amount of sleep is important for people with epilepsy. While this link isn't present in all patients, losing sleep can increase the frequency of seizures in people with epilepsy