Aging brain and dementia- Alzheimer's Disease
Aging changes all parts of body including the brain: Certain parts of brain shrink, especially prefrontal cortex and hippocampus, both important to learning, memory, planning, and other complex mental activities. Changes in neurons and neurotransmitters affect communication between neurons. In certain brain regions, communication between neurons reduces because white matter (insulation-covered axons) is degraded or lost. Brain's blood vessels aging causes reduction in blood flow as arteries narrows with age.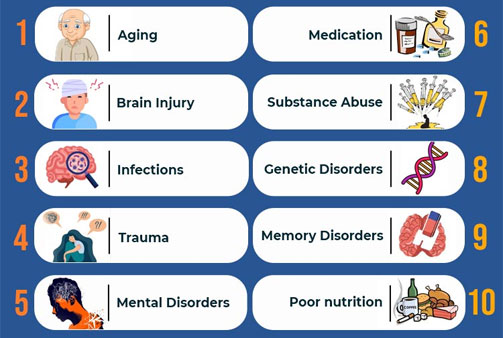 Memory loss triggers:
Memory deficits increases by stress, stroke and or decreased brain blood flow, medical conditions like electrolyte imbalance, hypoglycemia, liver failure, addictions, B12 vitamin deficiency, poor social support, infections, multiorgan failure, hearing or visual deficits.
Diagnostic approach to progressive memory loss
Dementia Treatment Options
Medical
Cause – Rivastimine, Donapazil, Galatmine, Memantimine
Cerebral decongestant – Acetazolamide, Diuretics
Nutritional Supplement
Hormonal therapy – e.g. for Hypothyroidism
Improving Cerebral Blod Flow – Antiplatelets, Ramiprill
Other Drugs – Citicolin, Piracetam, Pirabidil
Effect – Anti depressants / Antipsychotics / Symptomatic
Surgical:
Sub Dural Hematoma
Normal Pressure Hydrocephalus
Intra Cranial Space Occupying Lesions